Thank you Volunteers.....
We Couldn't Do It Without You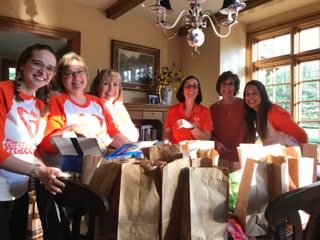 Our community loves and appreciates our police officers for their service and sacrifice to protect our community.
For National Police Appreciation Week, our Random Acts Matter volunteers along with students and teachers of Corron, Wasco, Bell-Graham, Anderson Elementary Schools and Thompson Middle School came together and expressed our gratefulness to our ST. CHARLES AND CAMPTON POLICE. RAM made lunches for the police officers with Jimmy John sandwiches, homemade goodies and other items.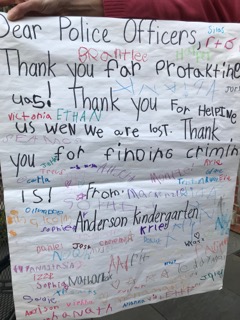 The amazing students of our community made posters and wrote the most thoughtful thank you notes to the officers.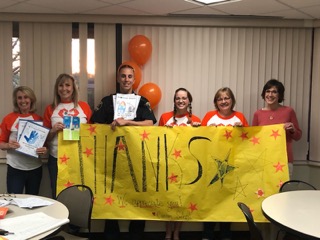 Thank you to the MANY volunteers who planned, baked, assembled and delivered the lunches. It was a lot of fun, a great Pro-Active RAM and a fantastic team effort!
Thank you Jen R. for coordinating with the schools and bringing that sweet element to the RAM . Also many thanks to Meagan, Christina, Michelle B, Susan, Erika, Heidi, Margie, Shannon G, Michelle M. Eileen K, Tina L, Lisa D, Diane G and Sara K for making it all happen and hopefully making our Police Officers day!!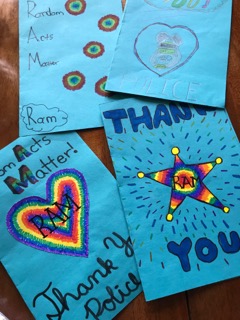 ACT 254 : Thank you Meagan's team for putting together an amazing basket for a woman who has just begun chemo and radiation for an inoperable glioblastoma. She is married with 3 young boys.

She has a rough road ahead so the RAM team selected items that would encourage and comfort her. Also included were grocery and restaurant gift cards to help with expenses and simplify life.
Thank you to those who donated:Fox Valley Food for Health, Geneva Commons, Beauty Counter(Sara Kahlenberg), Elegant Nails, Jewelry by Maureen Piotrowski, Deane's Market and Deli, RoseRoot Essential Oils(Hannah Singer).

Thank you Meagan, Chrissy, Kathy G, Natalie, Gina and Sara for blessing her with a "thought-filled" basket.
3 of our founding RAM members shared orange roses Friday night with folks at Charlestowne Theatre. Spreading kindness and beauty! Great job ladies!
Thank you Debbie, a RAM volunteer for being involved with this RAM that helped a family with 2 young boys.

The basket was full of new bedding essentials in preparation for the twin beds that were soon to follow!!

We added a couple of fun games for the boys!!

It was through our partnership with Tri-City Family Services that we were able to make a difference for

this family of 4.

Also, this RAM wouldn't have been possible to complete without the donation from a generous community member,

Rose Canfield who provided the twin beds and dresser and had them delivered free of charge too !!
RAM volunteer Shannon Glab leads an ASE class at Bell Graham School! Imagine a class dedicated to learning about kindness! Awesome job!!
This basket was completed by Christina's Team. Special thanks to Lara and Daniela for helping with this ACT. It was filled with all sorts of thoughtful and encouraging items, goodies to eat, activities for the family and other needed items for a family of 4 whose father is healing and rehabilitating from surgery for Grade IV Glioblastoma(brain tumor). What is super sweet about this ACT, is that the recipient is "paying it forward" by nominating a woman and her family who is battling the same challenge. We are currently working on that RAM Basket. This is one of our RAM HOPES, that people will pass KINDNESS on by nominating others in need of compassion.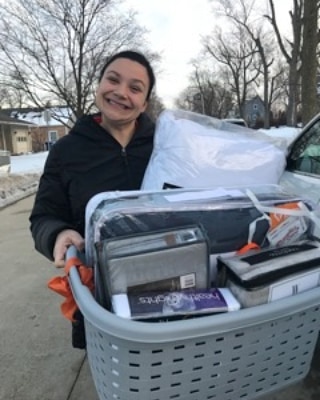 Anita delivered a basket to a 17 year old boy that needed new bedding for his new twin bed that was provided by TriCity Family Services. Its always a pleasure to come along side TriCity Family Services with the opportunity to help one of their family's in need. Thank you Anita for helping with the purchases of the items.
Now that the #stcAmazingRace is over, we can tell you where we were. We were at the @stc_history St Charles History Museum! Our team had fun passing out clues and challenging the contestants to write out their notes of kindness. Thanks to @stcparks for including us in the fun